Description
The Wall Clock Kit
Want to make your own large custom wall clock?
With our Wall Clock Kit, you can create your own one-of-a-kind large clock that will be a true conversation piece. We include all the metal numbers (15 total), mounting screws, giant hour and minute hands, and the high-torque clock movement w/hardware. Wow.
Our solid wire dimensional metal numbers are finished in Antique Black and you can't find them anywhere else. Our unique design allows the numbers to stand away from the surface approximately ½" creating a cool 3-Dimensional affect you won't find with "painted on" numbers. These are of the utmost quality and they should, quite simply, last longer than you. :)
Made with character, our numbers are hand-made and may have slight scratches, embellishments, nicks, etc. They're not perfect and we never wanted them to be. They'll look great on any clock you make.
Our Kit includes the following:
High-Torque Quartz Clock Movement (AA batteries required and not included) with mounting hardware

Clock Movement Base measures 2-1/4"L x 2-1/4"W x 5/8" thick

Clock Movement Shaft measures 3/4" threaded part of shaft and 1-1/8" total length of shaft

Large Clock Hands finished in black (minute hand is 14" long and hour hand is 6" long)

Fifteen of our solid metal wire numbers with mounting screws
Please keep in mind that we do not include instructions on how to make your own wall clock. "How to" instructions for making your own unique large wall clock are available all over the internet including youtube. Make one out of pallet wood, an old door, sheet metal, wood planks, re-purposed wood, painted wood, etc…… the opportunities and designs are unlimited and instructions are everywhere.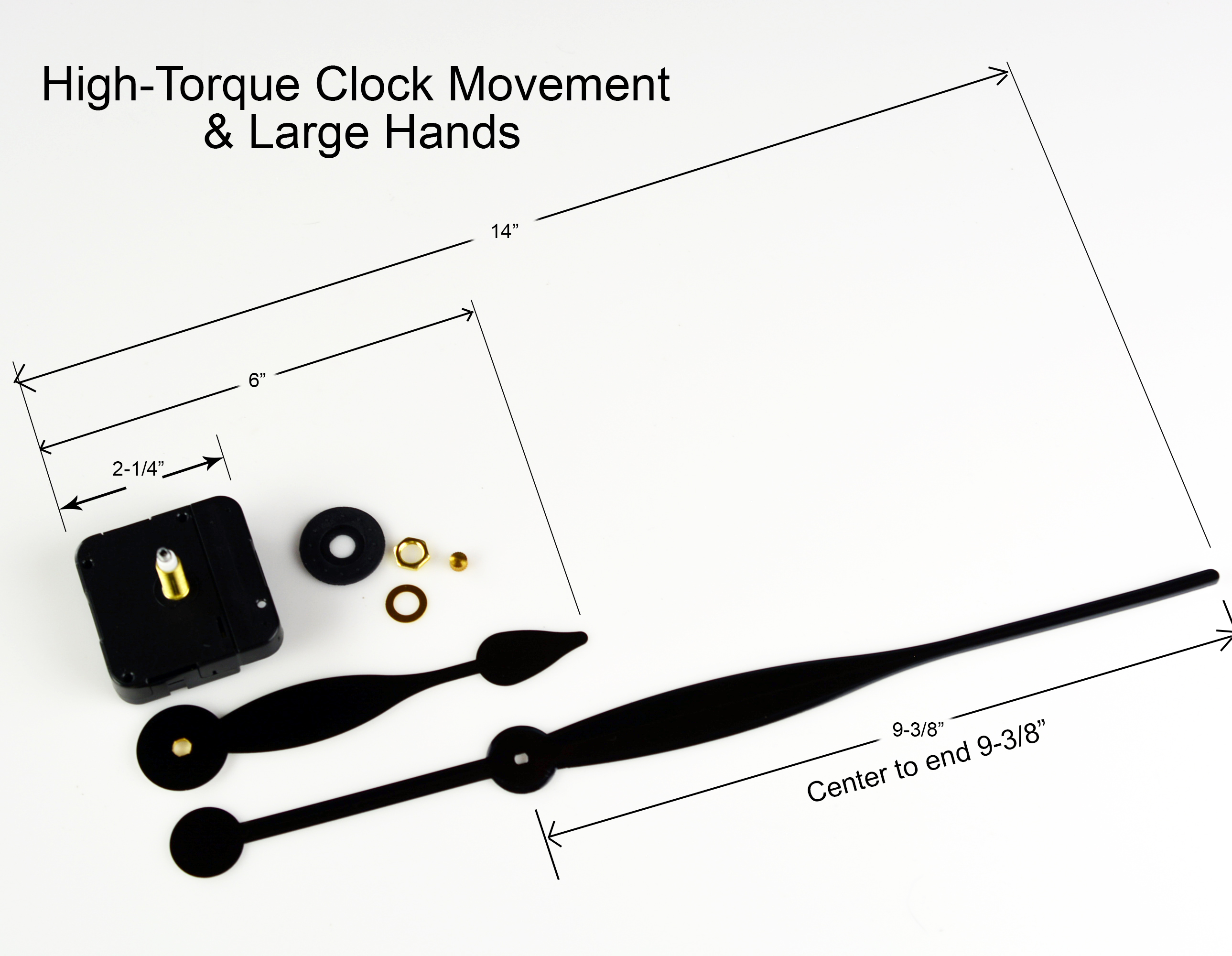 View All
Close